Golf season is here and seems to be ramped up! And Galway Bay is getting ramped up as well.  We have restocked our All-Weather Unlined Pants, so grab a pair or two while you can.
Galway Bay Reviews
2021 was a great year for golf and for Galway Bay. Our gear was mentioned in numerous publications.
These reviews and articles show that our gear is top-notch and that we're always striving to provide the best products for our customers. We're looking forward to another great year in 2022!
Golf.com - Best Waterproof Shell
Galway Bay's All-Weather Jacket uses proprietary Hydro-Flex 32 fabric — the most breathable waterproof technology in the industry. It's strong and durable without any bulk. 
Links Magazine
The rain pants, with belt loops, a seven-inch zipper and nine-inch-deep pockets, are designed to look like (and be worn like) regular golf slacks, so there's no need for layers. 
MyGolfSpy
The water runs off with ease but the suit remains breathable in warmer conditions. Throw in customizable pant lengths and you have a top performer in 2021.
Golf Today
 The biggest challenges facing Galway Bay — short and long term — is what?


Continue to navigate the global issues driven by Covid in the short term. Also in the short term, satisfy the demand of our customer base and the market. Long term — finding new and interesting ways to help our customer base battle the elements on the golf course, watching their kid play soccer, or running from the car into the office.
Links Magazine
Galway Bay is known primarily for its all-weather outerwear, but it also makes thermal, water-resistant sleeves ($29), which are an ideal accessory to pair with performance vests.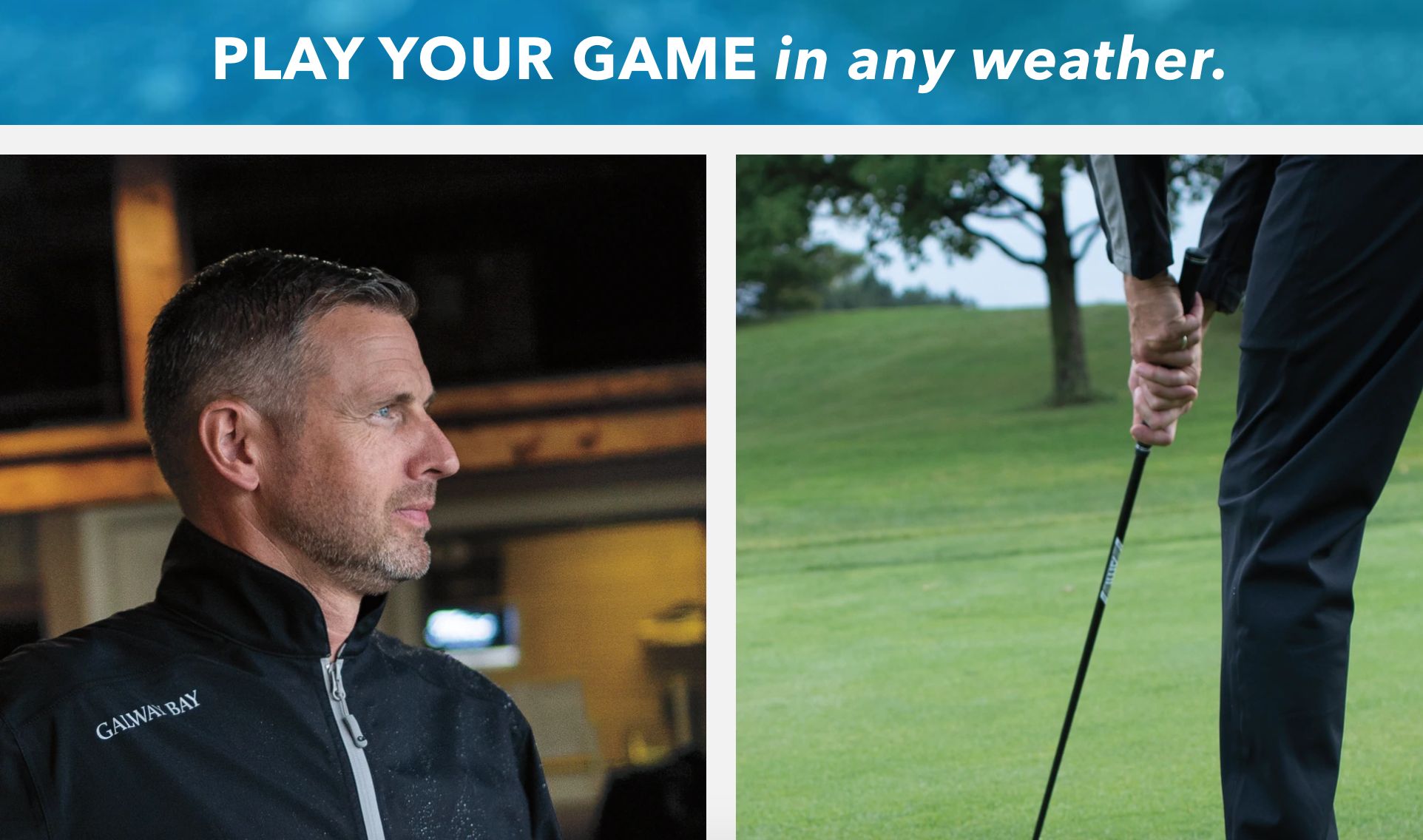 WiscoGolfAddict
The Galway Bay rain jacket is my new secret weapon to battle not only rain but wind. The light weight is perfect for keeping in your bag as the only jacket you will need on the course.
Plugged-In Golf
The award-winning collection of jackets, pants and pullovers, also known for its ability to block wind and rain, and allow golfers to stretch and move freely while staying warm and dry, showcases classic style and some new fashion-forward touches.
GolfPass
If you're in a warmer climate and getting rained on, full long sleeves can work against you, which is where Galway Bay's new short-sleeve jacket comes in handy.
golficity
Additionally, the fabric is more breathable, stretchable than ever, and features a rubberized waterproof zipper that together ensures the ultimate comfort and fit providing true performance.
CalGolfNews
Small touches often mean a lot and Galway Bay solved the irritating way rain jackets rub on your chin when fully zipped because there being too much collar in the front by tapering the high rear collar to just 1.25 inches and making it rounded. No chin-poking anymore as you walk and swing.